Creamy vegan Korma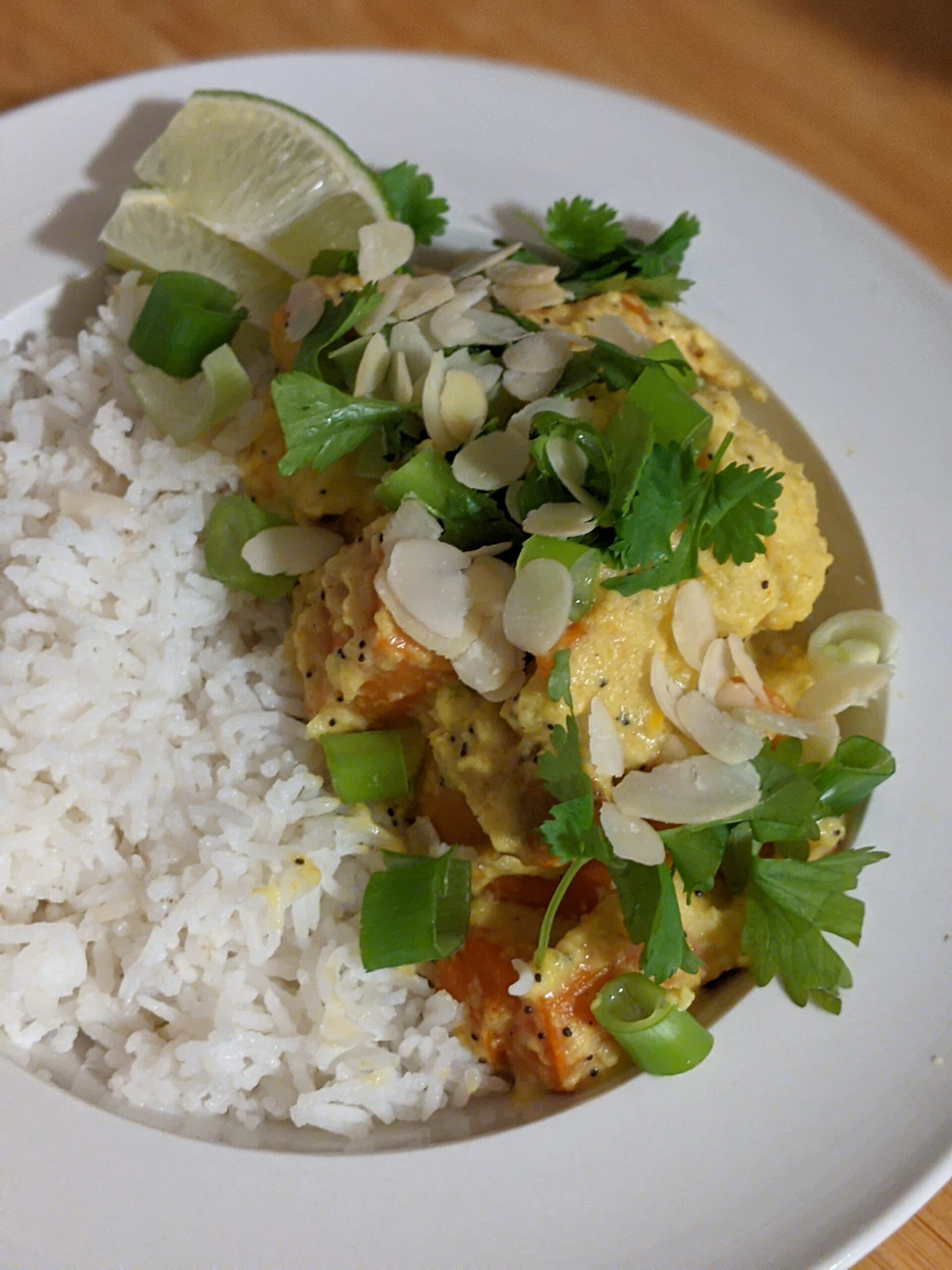 Ingredients
1 large sweet potato (about 400g)
1/2 butternut squash (about 500g) (you can use pumpkin, potato or extra sweet potato instead)
2 carrots (about 150g)
3 tbsp vegetable oil
2 large white onions
7 green cardamom pods
1.5 tsp poppy seeds
2 cloves
1 bay leaf
50g cashew nuts
75g blanched almonds
2cm fresh ginger
3 garlic cloves
1/2 tsp ground nutmeg
1/2 tsp ground tumeric
400ml coconut milk
2 limes
small bunch of fresh coriander
2 spring onions, to serve
Rice, to serve
Method
Preheat oven to 180°C. Peel the sweet potato, squash and carrots and cut into 2cm chunks and arrange on the lined baking tray. Drizzle with 1 tablespoon of the oil and season lightly with salt. Put the tray in the oven and roast for 30 minutes, turning the tray in the oven after 20 minutes if necessary. Remove when softened and a little brown.
Peel and finely slice the onions. Bash the cardamom pods with the end of a knife and tear them open. Tip the seeds into the large frying pan, add the poppy seeds and cloves and put on a medium high heat for 2 minutes.
Reduce the heat to medium low. Add the remaining 2 tablespoons of oil. Add the onions, bay leaf, cashews and 50g of the blanched almonds and stir for 12 minutes, until the onions are soft and the nuts slightly golden.
Peel the ginger by scraping off the skin with a spoon, then roughly chop. Rip the stems from the chillies, cut them in half lengthways and remove the seeds if you prefer a milder sauce, then finely chop. Peel and crush the garlic into the pan. Add the ginger, chilli, ground nutmeg and turmeric to the pan, cook for another 2 minutes.
Take off the heat and cook for 5 minutes. Remove the bay leaf and transfer to the liquidiser with 200ml coconut milk and whizz to a smooth paste, about 60 seconds. Pour back into the pan and put on a medium heat.
Add the roasted vegetables to the pan. Pour in the rest of the coconut milk and stir gently until well mixed. Reduce the heat and simmer for about 5 minutes then add a splash of water if the sauce is too thick for your liking.
Cut the limes in half and squeeze the juice over the curry, catching any pips in your other hand. Taste and season to taste with a little salt.
Divide between 4 and 6 plates and serve with rice, if using. Chop the stalks from the coriander and save for another recipe, then chop the leaves and the rest of the blanched almonds and slice the spring onions. Scatter a little over each portion.
---
---