Simple Hummus Curry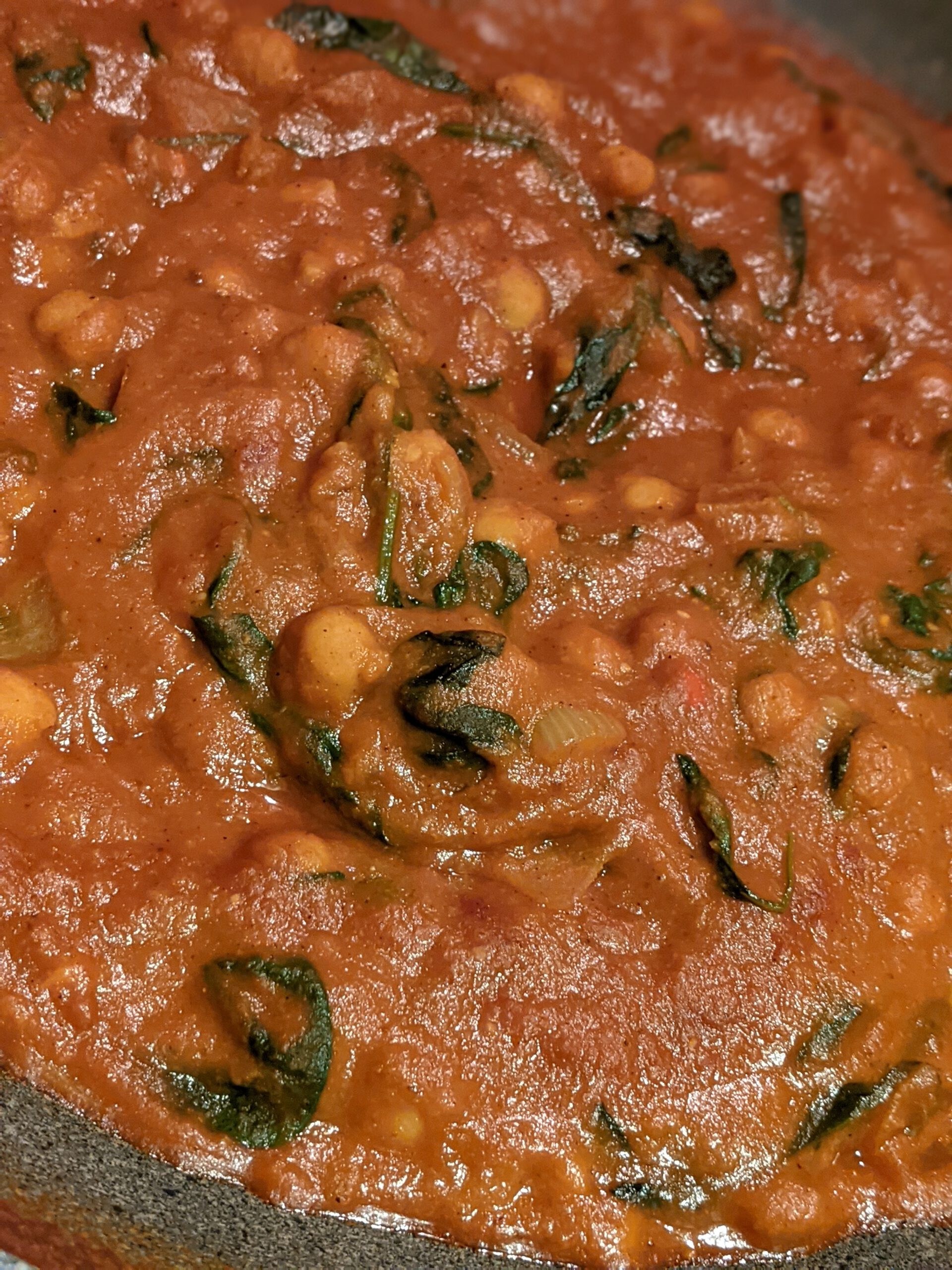 Ingredients
1 tbsp coconut oil
1 large onion
1 small red chilli
2 cloves garlic
2 inches fresh ginger
1 tbsp garam masala
1/2 tsp cumin
1/2 tsp ground coriander
1/2 tsp tumeric
1/4 tsp cayenne pepper
2 tsp tomato puree
1 x 400g can chopped tomatoes
200ml water
1 x 400g can chickpeas
1 tbsp mango chutney
200g hummus
100g spinach
Salt and pepper to taste
5g coriander
Basmati or brown rice to serve
Method
Prepare the ingredients. Peel and dice the onion. Trim, halve, deeseed (if you like) and dice the chilli. Peel and grate the garlic and ginger. Drain the chickpeas
Start to cook. Warm the coconut oil in a pan over a medium heat. Add the onions to the pan with a pinch of salt and stir for 4-5 minutes. Add the chilli, garlic and ginger and stir for 2 minutes
Add the spices to the pan and stir for a further 2 minutes. Add the tomato purée and stir for 1 minute. Add the chopped tomatoes to the pan, half-fill the can from the tomatoes with the water and add that to the pan too, stir to combine and simmer for 2-3 minutes
Add the chickpeas to the pan and stir for 2 minutes. Add the mango chutney and hummus and stir for 2-3 minutes to combine. Add the spinach and fold it into the pan until well slightly wilted
Taste the curry and season to perfection with salt and pepper
Serve it up! Prepare the rice according to packet instructions. Spoon the rice into the bowls, then spoon curry over rice. Sprinkel over the coriander and serve immediately!
---
---