Massaman Curry – Vegan version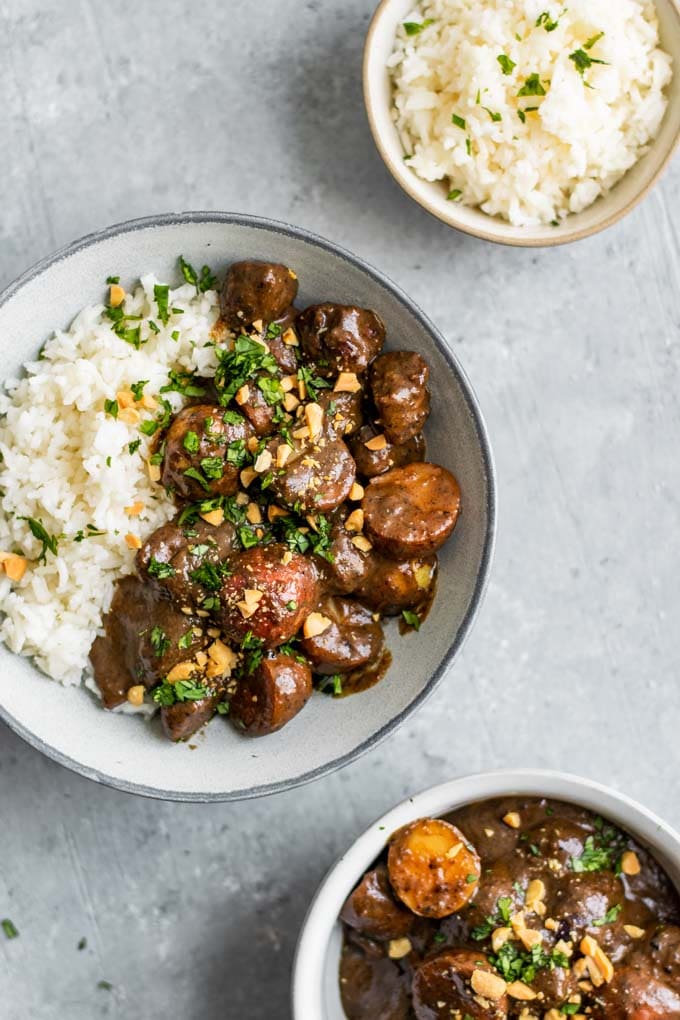 Description
Massaman curry is a delicious Thai curry with influences from Indian cuisine. This vegan version is made with vegan beef (see post for alternatives), and is a filling and satisfying meal.
Ingredients
1 tbsp vegetable oil
9 oz vegan beef or seitan (8-9 oz)
½ recipe massaman curry paste (or 5-6 tbsp curry paste)
1 ½ 15 oz cans coconut milk (~2 cups)
3 cups vegetable broth or water (2-3 cups) more as needed)
1 lb potatoes (1 to 1.5″ cubes)
1 star anise
1 tbsp coconut sugar (palm sugar, brown sugar, or turbinado)
1 tbsp tamarind concentrate
salt to taste
¼ cup chopped dry roasted peanuts
cilantro for garnish
1 jasmine rice (to serve)
Steps
Heat the oil in a wok (or pot) over medium high heat. Add the vegan beef (add straight from frozen) or seitan and fry to sear and pick up some color, ~5 minutes. Deglaze any bits stuck on the pan with a tablespoon or two of water, then transfer to a bowl and set aside.
In the wok (or pot) add the massaman curry paste and 1/3 cup of coconut cream scooped from the top of a can of coconut milk. Stir to combine and let fry until the oil splits from the cream and sizzles outside of the curry paste. *If the can has not separated separated, just use the milk, it will take longer to cook down before splitting.
Add the remaining coconut milk (cream + water) left in the first can, 2 cups of broth or water, the potatoes, star anise, sugar, and tamarind. Bring to a simmer and let cook until the potatoes are soft, 10-20 minutes depending on how large the potatoes are. Add more water or broth as needed to thin and keep the potatoes covered. You'll end up with a thick gravy.
Once the potatoes are just fork tender, add the vegan beef back into the curry and let cook another 5 minutes. Towards the end of that cooking time, add another 1/2 to 3/4 cups of coconut milk or cream from a second can of coconut milk.
Serve hot with a garnish of chopped peanuts and cilantro. Eat with jasmine rice.
---
---