Massaman Curry Paste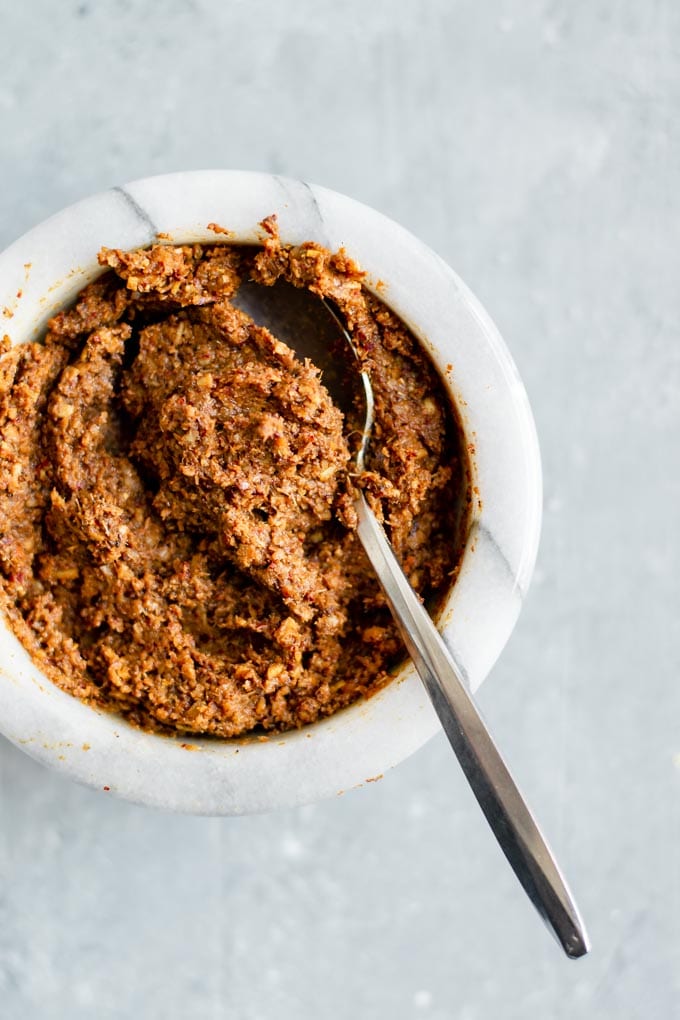 Description
Homemade massaman curry paste is mildly spicy, a bit peanutty, and full of Indian and Thai flavors. Use it to make the most flavorful and delicious massaman curry in your own kitchen!
Ingredients
for 3 servings
3 medium shallots (2-3 medium)
8 garlic cloves
6 cardamom pods
4 whole cloves
1 cinnamon stick
2 tbsp coriander seed
1 tsp cumin seed
8 dried thai chiles (4-8 dried) or less for milder)
1 tsp peppercorn
2 stalks lemongrass* (thinly sliced)
1 tbsp minced galangal (substitute fresh ginger)
1 tsp kosher salt
½ tsp ground nutmeg
¼ cup dry roasted peanuts
4 tbsp water (1-4 tbsp) as needed to blend)
Steps
Heat a wok over medium high heat until it's lightly smoking. Add the unpeeled garlic cloves and unpeeled shallot and toast, stirring occasionally, until the skins are blackened (about 5 minutes). Take off the heat and when cool enough remove the papery skins and any part that is overly blackened and burnt.
.
Turn the heat down to medium-low and add the whole spices: cardamom, clove, cinnamon, coriander, cumin, dried chiles, and peppercorn. Toast until fragrant, about 3-5 minutes. Remove from heat.
.
Remove the cardamom seeds from the husk and the seeds from the dried chiles. Then add all the toasted spices along with the cardamom seeds and the outer part of the dried chiles to a spice grinder or mortar and pestle (most likely in batches in the latter case). Grind to a powder.
.
In the wok over medium heat dry roast the lemongrass and galangal (or ginger) until lightly charred, ~3 minutes.
.
In a food processor or blender combine the peeled garlic and shallot, the ground spices, the lemongrass and galangal (or ginger), ground nutmeg, and dry roasted peanuts. Process until smooth, adding 1-4 tablespoons of water as needed to blend to a smooth paste. The smoother the paste, the smoother your final curry is.
---
---