Whole roasted Cauliflower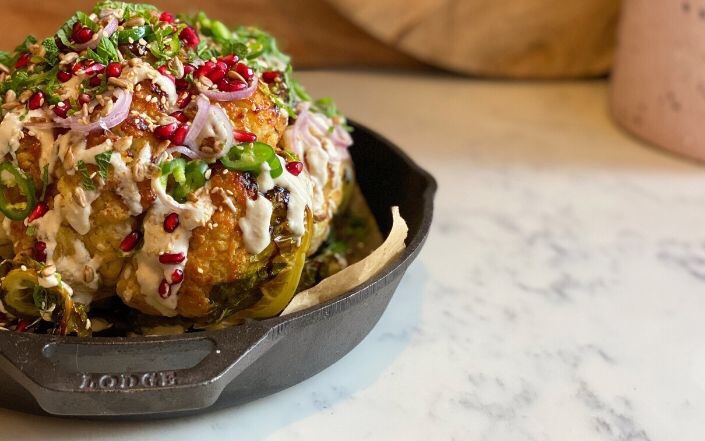 Ingredients
1 Large whole cauliflower
2 tablespoons extra virgin olive oil ( or half olive and half sesame oil)
Sea salt to taste
Miso Glaze
2 tablespoons miso paste
1/3 cup mirin
1 tablespoon maple syrup
1 teaspoon sesame oil
I used soy sauce instead of miso and vegie stock instead of mirin and I didn't add any maple syrup but used lemon juice
Cashew cream
¾ cup raw unsalted cashews Or almonds
1 tablespoon apple cider vinegar
1 teaspoon maple syrup ( used brown sugar)
Garnish
2 tablespoons pomegranate seeds could use currents instead
1 tablespoon sesame seeds, toasted
1 tablespoon sunflower seeds, toasted ( I also added same in pepitas)
1 long green chili, slice Or capsicum
¼ cup mint leaves sliced
Extra whole almonds or cashews to garnish
Method
Place the cashews into a bowl and cover with ¾ cup of boiling water. Set aside for 30 minutes to soak.
Pre heat the oven to 180 degrees C.
Cut the base of the cauliflower so it will sit on a flat surface evenly. Cut a cross into the base of the stem with a small sharp knife. Bring a large pot of salted water up to a simmer and place the cauliflower upside down into the pot and simmer for 5 minutes. Remove the cauliflower from the pot and allow excess water to drain off.
Place into a lined baking pan or tray and drizzle with oil and season with a little salt. Cover tightly with foil and bake for 25-30 minutes.
Meanwhile whisk all the miso glaze ingredients in a bowl until smooth.
Remove the cauliflower from the oven and take off the foil. Spoon over the miso glaze and place back into the oven uncovered for a further 10-15 minutes, or until the glaze is bubbling and golden.
Place all the cashew cream ingredients, including the water into the jug of a stick blender and blitz until smooth and creamy.
To serve, remove the cauliflower from the oven and drizzle with cashew cream, pomegranate seeds, sesame seeds, sunflower seeds, chili and scatter over the mint. Serve warm with a fresh green salad.
---
---