Eggplant Parmigiana – Smoked Mozarella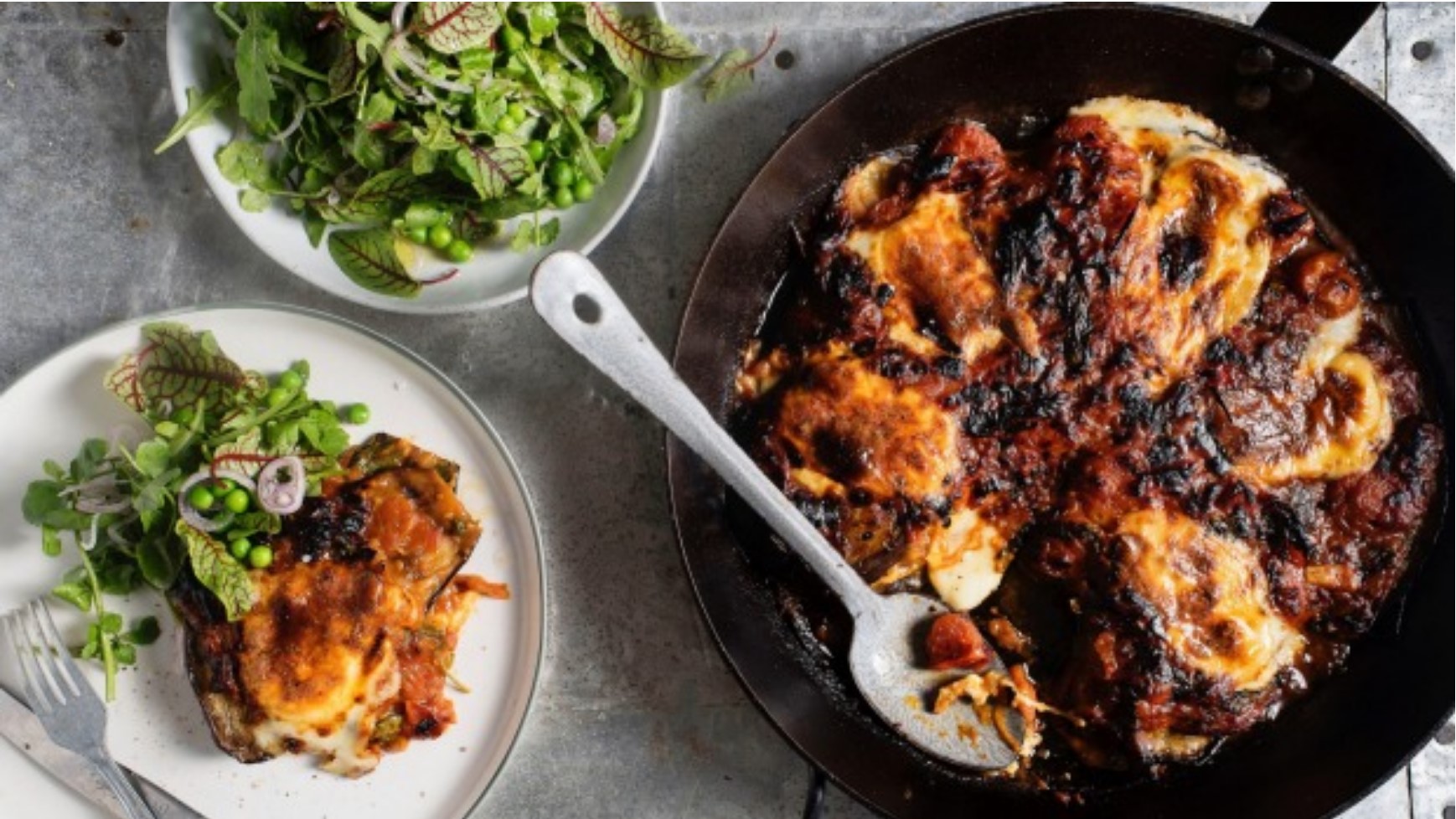 About
Don't expect that there will be any leftovers when you serve up this juicy vegetarian dish oozing with cheese. The eggplants have a lovely charred taste after being on the barbecue. It is a nice vegetarian option with the combination of eggplant, smoked mozzarella and tomato possessing strong umami characteristics.
Characteristics
– Preparation time: 0 minutes
– Cook time: 45 minutes
– Servings: 4 Servings
– Source: Link
Ingredients
200 ml olive oil
1 bulb garlic
1 red onion
1 long red chili
4 punnets cherry tomatoes
1 bunch basil
½ lemon
2 eggplants
200 g smoked mozzarella
Method
Step 1
Preheat the oven to fan-forced 180C.
Step 2
Add 100ml of olive oil, garlic, onion and chili to a large, heavyset frying pan on high heat. Cook until the onion is translucent. Add the cherry tomatoes and cook until they are soft and blistered. Using the back of a wooden spoon, pop any tomatoes that haven't already released their tasty innards. Take the pan off the heat and add the basil, lemon zest and juice. Season well and set aside.
Step 3
Brush the eggplant slices with the remaining olive oil and season well. Using your barbecue, grill the eggplants until they are three-quarters cooked (3 to 5 mins on each side) with some lovely charred lines on them. Set the eggplants aside.
Step 4
It is time to build the parmigiana. You will need a heavyset frying pan or a baking dish. Ladle some of the tomato sauce you have just made onto the base and then layer with eggplant. Ladle more tomato sauce over the eggplant and then add a layer of mozzarella on the top. Repeat until the eggplants are used up, making sure that the top layer has plenty of tomato sauce and mozzarella on top. Put the pan or tray in the oven and bake for 15 mins or until golden on top. The cheese will be stringy and gooey.
Step 5
To serve, put the pan in the middle of the table, and then, dig in.
Step 6
Serve with our watercress, pea, sorrel and eschalot salad.
Step 7
TIP: You can easily double the quantity of tomato sauce you make and store it in the fridge to use as the base of pasta sauces or on a pizza.
Shared from the CookBook app – http://thecookbookapp.com
---
---